Democrats' Runaway Transit Spending
---
KEY TAKEAWAYS
Transit has been affected by the pandemic just like other segments of transportation, but ridership already had been dropping for years.
Before the pandemic, transit comprised just 3% of daily transportation trips and 7% of commuter trips, but Democrats want to increase spending at the expense of other options Americans prefer.
Congress should consider the challenges facing the transit industry and concentrate taxpayer resources on infrastructure that will benefit the most Americans.
---
America's transportation systems were among the first to feel the squeeze as communities across the country shut down more than a year ago. But transit ridership was already declining before the pandemic. Instead of asking why, Democrats want to throw taxpayers under the bus by spending billions of dollars more on transportation systems the American people are less interested in using. Congress should scrutinize the country's transportation needs and focus our limited resources on the most pressing areas that will benefit the most Americans.
"If we pass the Biden bill, along with the FAST Act reauthorization, and combined it with the $82 billion we provided over the last year, we could … buy every transit commuter in America a $30,000 car." – Banking Committee ranking member Pat Toomey
Democrats' Funding proposals are off the rails 
Traditional infrastructure has been a shared obligation among federal, state, and local governments. According to the Congressional Budget Office, the federal government accounted for approximately 23% of public spending on mass transit and rail in 2017, with state and local governments covering the remaining 77%.
In March, Democrats rammed through $30 billion for transit as part of their partisan "relief" bill. This was on top of $39 billion that Congress already provided in bipartisan COVID relief measures in 2020 and $13 billion Congress spent on transit as part of the annual appropriations process. The Biden administration has called for spending another $85 billion in addition to baseline funding for transit as part of its so-called "infrastructure" plan released in March. This figure does not even account for the tens of billions of dollars President Biden wants to spend on electrifying the country's bus fleets. Some Democrats want to go even further than the president's plan, proposing to spend half a trillion dollars on remaking our transportation systems, including transit, in a Green New Deal-type initiative.
In contrast, Republicans have offered $98 billion for transit over eight years as part of a commonsense framework to improve infrastructure. This is consistent with prior funding levels of $12 to $13 billion per year.
Ridership Challenges
People in the United States took about 9.9 billion transit trips in 2019, a decline of nearly 800 million from 2014.
Transit Ridership's Decline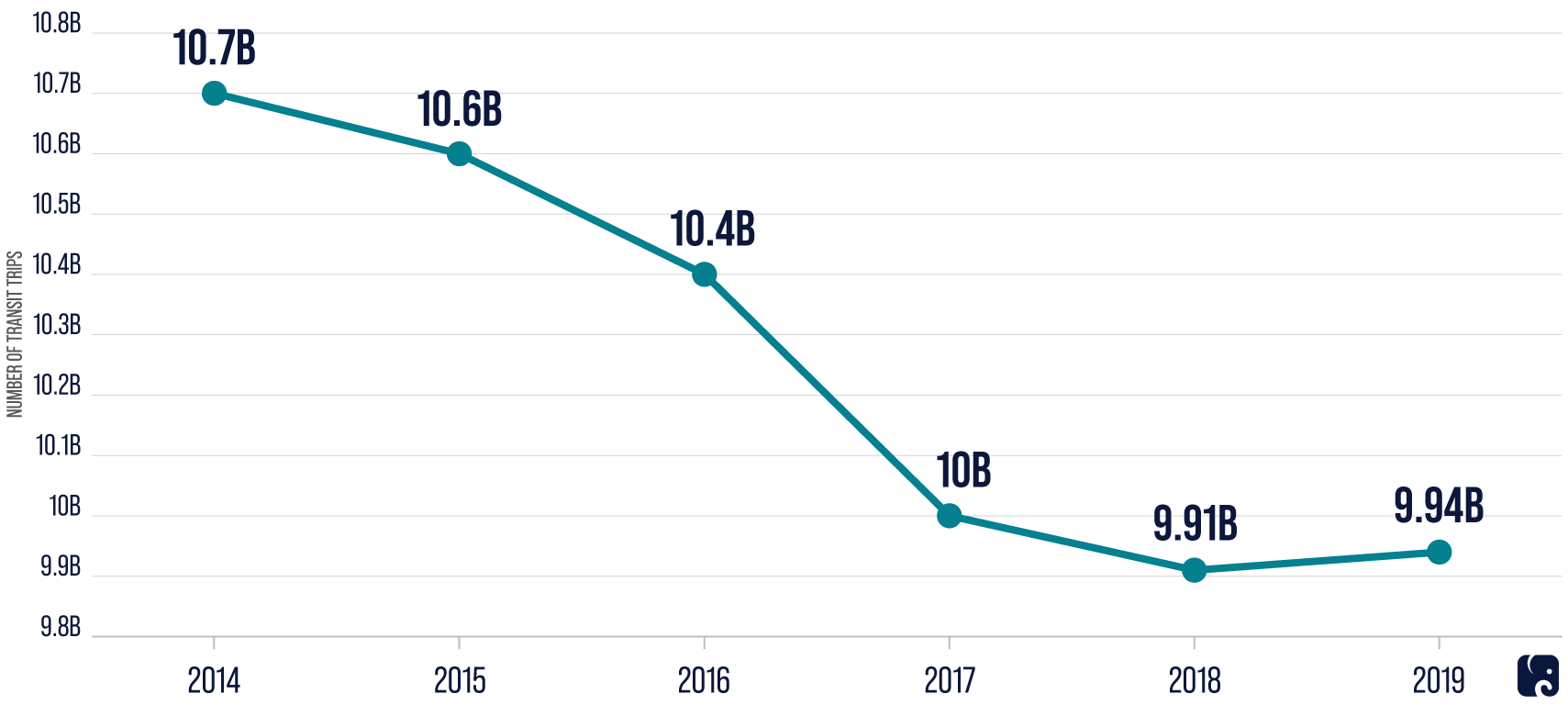 Before the pandemic, transit comprised 3% of daily transportation trips and approximately 7% of commuter trips. Public transit is important for many Americans, and Congress can continue to support those systems appropriately; but the focus must remain on other infrastructure needs that are more pressing and can benefit more Americans. Roads and bridges help move people and freight. According to one analysis, drivers are paying $135 billion each year in costs stemming from our aging roads.
We are still learning the effects of the pandemic shutdowns and how they may affect where people will live and how they will get around in the future. Congress should be in no rush to throw unprecedented amounts of money at transportation systems that may be less important to the American people.
---
Next Article
Previous Article