The Three Parts of Health Reform
---
Part one of health care reform is underway, as the House works through a budget reconciliation plan that will repeal some of the most damaging parts of Obamacare.
Part two is happening simultaneously, as the Trump administration uses its executive authority to cut regulations and increase state flexibility.
Part three involves traditional bipartisan legislation to enact policy reforms. 
---
Fulfilling the promise to fully repeal and replace Obamacare with reforms that lower costs and increase choice will necessarily take different approaches. These can happen concurrently or sequentially. The three-part process involves using the budget reconciliation process, pursuing administrative actions, and passing various bills to repeal other parts of Obamacare and enact patient-centered reforms.
Three Parts of Health Reform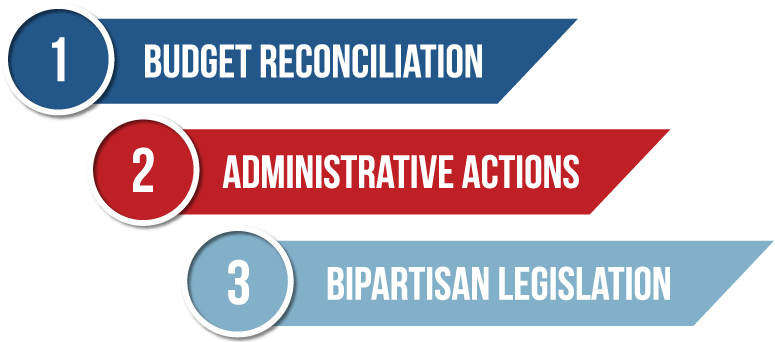 ­
Part one: budget reconciliation
The first step is for Congress to pass the American Health Care Act. This bill repeals major pieces of Obamacare – including the major taxes, penalties, and spending provisions. Prior to the manager's amendment, CBO projected the bill would reduce the deficit by $337 billion over the next decade. Senate rules that constrain the scope of reconciliation bills prevent many of Obamacare's insurance regulations from being repealed in this part. These insurance regulations restrict choice and dramatically increase costs by standardizing insurance products at a level that is higher than many people want, need, or can afford. To fully lower costs and restore choices for patients and families, we must move on to parts two and three.
Part Two: administrative actions
Obamacare grants the secretary of Health and Human Services an enormous amount of authority and discretion over much of the law. HHS Secretary Tom Price can use that authority to eliminate or scale back some of the Obamacare regulations that drive costs up and patient choice down. He has already begun to do this. In February, HHS proposed new rules aimed at stabilizing the individual and small group insurance markets to address the alarming premium increases and a mass exodus of insurers. In addition, last week the secretary sent letters to states regarding Obamacare's "1332 waivers." These allow states to escape certain provisions of Obamacare. Secretary Price promised flexibility and collaboration with states that come up with creative ways to reduce the law's burden on patients and health care providers. He and the administrator of the Centers for Medicare and Medicaid Services, Seema Verma, have also promised states additional flexibility in Medicaid. This will let states better manage their programs in a way that best serves their most vulnerable people.
Part three: Bipartisan legislation
The remainder of Obamacare will have to be repealed and replaced through the traditional legislative process. Congress will have many opportunities throughout this year to advance bills that do this. President Trump has committed to helping pass a variety of legislation in part three. In particular, the president is focused on enabling the purchase of insurance across state lines and reducing drug prices.
The House has said that it will advance part three legislation alongside its efforts to pass the health care bill now under consideration. This week, it plans to consider the following bills:
The Competitive Health Insurance Reform Act of 2017 (H.R. 372) amends the McCarran-Ferguson Act to remove antitrust protections for health insurance providers.
The Small Business Health Fairness Act of 2017 (H.R. 1101) provides for the establishment and governance of association health plans. These allow small businesses to pool together to purchase health plans. 
---
Next Article
Previous Article